| | |
| --- | --- |
| This article/section is a stub. You can help Looney Tunes Wiki by expanding it. | |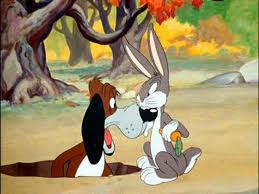 Willoughby (sometimes spelled Wiloughby) is a dumb hound character of the Merrie Melodies series. According to Chuck Jones, the character was based on Lennie, from Of Mice and Men.
Description
Willoughby is a hunting dog, but does not do his job well.
In his first appearance, "Of Fox and Hounds", he is big and fat, but then he appears thin in other shorts, and in his last appearance, "Foxy by Proxy", he appears fat again.
Appearances
Ad blocker interference detected!
Wikia is a free-to-use site that makes money from advertising. We have a modified experience for viewers using ad blockers

Wikia is not accessible if you've made further modifications. Remove the custom ad blocker rule(s) and the page will load as expected.