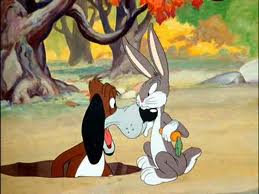 Willoughby (sometimes spelled Wiloughby) is a dumb hound - an animated cartoon character of Merrie Melodies series. According to Chuck Jones, the character was based on Lennie, from Of Mice and Men.
Personality
Willoughby is a hunting dog, but does not their job well. On various missions to hunt a fox, he wondered to own Fox where she was.
Physical Appearance
In his first appearance, (Of Fox and Hounds), he is big and fat, but then it appears thin in other short, and in his last appearance, (Foxy by Proxy), he appears fat again.
Appearances