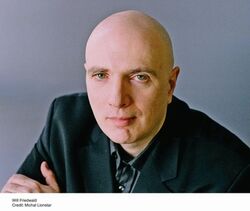 Will Friedwald (b. 1961) is an American author and music critic who has worked with several newspapers and magazines, including The New York Times, The Village Voice, Entertainment Weekly, and Stereo Review.
Looney Works
He co-wrote Looney Tunes & Merrie Melodies: An Illustrated Guide To The Warner Bros. Cartoons with animation historian Jerry Beck.
Ad blocker interference detected!
Wikia is a free-to-use site that makes money from advertising. We have a modified experience for viewers using ad blockers

Wikia is not accessible if you've made further modifications. Remove the custom ad blocker rule(s) and the page will load as expected.