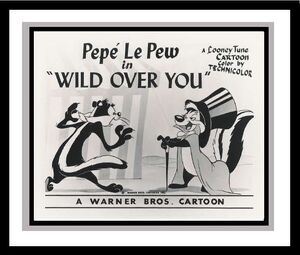 Wild Over You is a Looney Tunes short from 1953 starring Pepé Le Pew.
Plot
A wildcat escapes from the zoo and disguises herself as a skunk to ward off her captors. That doesn't go too well for her as she has attracted the attention of the love-struck Pepé Le Pew. However, unlike the other cats who simply squash and stretch their way out of Pepe's amorous grasp, the wildcat beats him up...which does nothing to deter him, as he only enjoys the maulings.
Notes
This is the first Pepe Le Pew cartoon to have Maurice Noble credited for layouts.
This is the first animation by Abe Levitow to be credited.
Availability
UK
The Looney Tunes Video Show - Volume 8
US
Gallery
Ad blocker interference detected!
Wikia is a free-to-use site that makes money from advertising. We have a modified experience for viewers using ad blockers

Wikia is not accessible if you've made further modifications. Remove the custom ad blocker rule(s) and the page will load as expected.