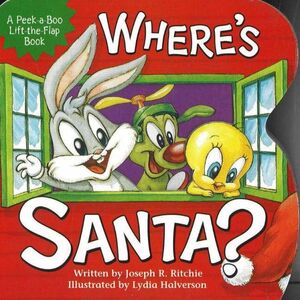 Where's Santa? is a 2006 Peek-a-Boo Lift-the-Flap book from Candycane Press. It was written by Joseph R. Ritchie and illustrated by Lydia Halverson.
Plot
Baby Bugs is determined to meet Santa Claus this year, and looks for him behind all the Christmas decorations. The reader lifts each flap to try to find Santa.
Ad blocker interference detected!
Wikia is a free-to-use site that makes money from advertising. We have a modified experience for viewers using ad blockers

Wikia is not accessible if you've made further modifications. Remove the custom ad blocker rule(s) and the page will load as expected.