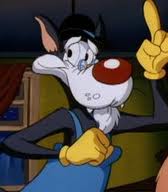 Walter Wolf is Slappy Squirrel's arch-enemy. He has attempted to defeat Slappy on several occasions.
Schemes
On a number of noted occasions, Walter Wolf had tried to do the following:
Sued Slappy because he felt she was abusing him (...And Justice for Slappy).
Faked his death so he can surprise Slappy (Hurray for Slappy).
Teamed up with Slappy's two other nemesis', such as Sid the Squid and Beanie The Brain-Dead Bison.
All schemes resulted in Walter Wolf's utter demise.
Appearances
Voice actor
He was voiced by Frank Welker in his first appearance, but Jess Harnell voiced him in all subsequent appearances.
Gallery
Ad blocker interference detected!
Wikia is a free-to-use site that makes money from advertising. We have a modified experience for viewers using ad blockers

Wikia is not accessible if you've made further modifications. Remove the custom ad blocker rule(s) and the page will load as expected.