Not to be confused with Wild Wife.
Wacky Wildlife is a 1940 Merrie Melodies cartoon directed by Tex Avery.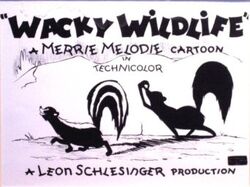 Plot
A truly twisted nature short showing nature out of kilter, with spot gags involving animals living in the wild. The narrator explains, "We have a rare meeting between a bobcat and a tomcat." As they pass each other, one says, "Hello, Tom"; the other says, "Hello, Bob." When a coyote calls to his mate at night, he yells out, "Hey, Mabel, come on out!" A camel says, "I don't care what you say, I'm thirsty. A wild dog points out what makes him wild: loggers are cutting down the last tree in the forest, and more.