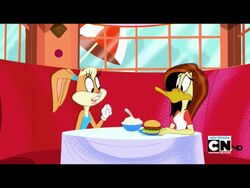 Tutty's is a restaurant occasionally shown in The Looney Tunes Show.
Description
The restaurant first appeared in the episode, "That's My Baby", when Porky and Bugs went there for lunch, and Porky was tricked into ordering pricey food that he didn't need by the bubbly waitress. Later, in Season 2, it was redesigned and appeared more often, like in the episodes "Customer Service" and "Mr. Weiner".
Ad blocker interference detected!
Wikia is a free-to-use site that makes money from advertising. We have a modified experience for viewers using ad blockers

Wikia is not accessible if you've made further modifications. Remove the custom ad blocker rule(s) and the page will load as expected.