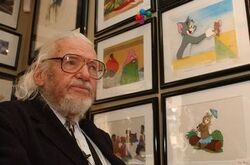 Thomas Archer Ray (August 2, 1919 – April 6, 2010) was an American animator.
He began work at Warner Bros. Cartoons in 1937. In 1958, he became a master animator in the Robert McKimson unit. Later, he worked briefly at the Friz Freleng unit, then Chuck Jones unit, where he co-directed Adventures of the Road-Runner and several The Bugs Bunny Show episodes.
His later credits include animation on Tiny Toon Adventures and Animaniacs.
Ad blocker interference detected!
Wikia is a free-to-use site that makes money from advertising. We have a modified experience for viewers using ad blockers

Wikia is not accessible if you've made further modifications. Remove the custom ad blocker rule(s) and the page will load as expected.