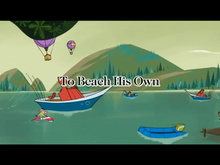 To Beach His Own is the second segment of the 30th episode of New Looney Tunes.
Plot
Slugsworthy the First bullies everyone at the beach by being first. When Bugs gets the best beach trophy, Slugsworthy wants it and chases Bugs all over the beach to get it.
Notes
Latin Spanish Title: La Playa Es Mia
Video Clips
Ad blocker interference detected!
Wikia is a free-to-use site that makes money from advertising. We have a modified experience for viewers using ad blockers

Wikia is not accessible if you've made further modifications. Remove the custom ad blocker rule(s) and the page will load as expected.