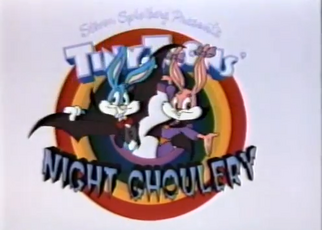 Tiny Toons Night Ghoulery is a 1995 hour long Tiny Toon Adventures TV special, and is also the last Tiny Toons media created.
Episode Segements
The Tell-Tale Vacuum
Sneezer the Sneezing Ghost
The Devil Dog on the Moors
Fuel
Daniel Webfoot and the Devil
Hold That Duck
Frankenmyra and Dizzygor
A Gremlin on a Wing
Plots
Babs Bunny hosts the show. It consists of horror spoofs. There are nine in total and all of them are non-canon.
The Tell-Tale Vacuum
A Parody of the Tell-Tale Heart. It starts Hampton and Plucky.
Sneezer the Sneezy Ghost
It stars Furrball in the role of a Casper parody.
The Devil Dog of the Moors
Tells the story of the Devil Dog. A normal dog who goes insane.
Fuel
A parody of "Duel" (The Movie).
The Devil and Daniel Webfoot
A parody of Daniel Webster and the Devil.
Hold That Duck
Starring Plucky Duck.
Night of the Living Devil
A Parody of "Night of the Living Dead".
Frankenmyra
A parody of Frankenstein, with Elmyra as the monster. The Brain makes a cameo
Gremlin On A Wing
Parody of the Twilight Zone.
Ad blocker interference detected!
Wikia is a free-to-use site that makes money from advertising. We have a modified experience for viewers using ad blockers

Wikia is not accessible if you've made further modifications. Remove the custom ad blocker rule(s) and the page will load as expected.