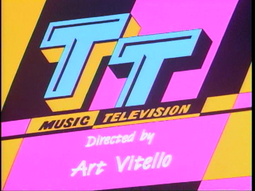 The collection of music videos, starring the Tiny Toons cast, for the following:
"Istanbul (not Constantinople)": Plucky & Hamton are hired to retrieve a stolen statue from Montana Max.
"Particle Man": Plucky takes on various wrestlers and loses.
"Respect": Babs annoys everyone around her while singing this song.
"Money (That's What I Want)": Let's just say it's perfect for Montana Max.
"Top Secret Apprentice": Buster decides to play with Bugs' new cartoon creator.
Trivia
The end tag is of Byron Basset, who sniffs around before saying "Woof."
A phone number appearing in between music videos was removed from the Tiny Toon Adventures: Season 1, Volume 2 DVD release.
Ad blocker interference detected!
Wikia is a free-to-use site that makes money from advertising. We have a modified experience for viewers using ad blockers

Wikia is not accessible if you've made further modifications. Remove the custom ad blocker rule(s) and the page will load as expected.