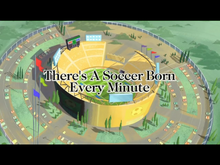 There is a Soccer Born Every Minute is an upcoming episode of New Looney Tunes.
Title
The title is a pun on the phrase "there's a sucker born every minute."
Plot
When Bugs Bunny accidentally finds himself in the middle of a soccer game, Bugs joins the blue team and leads them to victory.
Video Clips
Ad blocker interference detected!
Wikia is a free-to-use site that makes money from advertising. We have a modified experience for viewers using ad blockers

Wikia is not accessible if you've made further modifications. Remove the custom ad blocker rule(s) and the page will load as expected.