The Woods Are Full of Cuckoos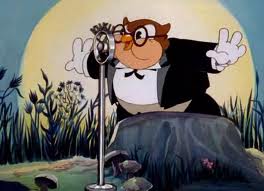 The Woods Are Full of Cuckoos is a 1937 Merrie Melodies cartoon directed by Frank Tashlin.
Plot
Forest animals participate in the Woodland Community Swing Variety Show on radio station KUKU.
Availability
Notes
This cartoon features many different caricatures of then famous celebrities. Among the likes include Jack Benny, Eddie Cantor, Irwin Cobb (Irwin Frog), Bing Crosby (Bing Crowsby), W.C. Fields (W.C. Fieldmouse), and many others.
KUKU is the name of an actual FM radio station based in Willow Springs, Missouri.
This is one of the handful of pre-1948 shorts that air on the Turner networks using their Associated Artists Productions prints after 1995, minus the AAP opening, although a dubbed version does exist, which airs from time to time. For some reason, the LaserDisc print has the opening shield zoom cut off, but the music still plays.
The 1995 EU dubbed version replaces the 1938 opening music by the 1941-45 one.[citation needed|date=]
Ad blocker interference detected!
Wikia is a free-to-use site that makes money from advertising. We have a modified experience for viewers using ad blockers

Wikia is not accessible if you've made further modifications. Remove the custom ad blocker rule(s) and the page will load as expected.