| | |
| --- | --- |
| This page is under construction. Please help us work on it. | |

The Shell Game is the 20th episode of the second season of The Looney Tunes Show, and the 46th episode total.
Plot
Daffy breaks his recliner, sending him backward. Afterwards, Bugs recommends buying a new one, but Daffy refuses since he does not have the money. Bugs then recommends fixing it, but Daffy claims it is not broken, only to be proven wrong when it sends him flying when he tries to use the lever. Daffy claims he is fine with his recliner being broken, but Bugs disagrees because it takes up too much space that way. Later, Daffy and Porky return from a golf game, arguing about who won (Daffy thought that in golf, the one with the highest score wins). Daffy then finds that the television is back in place and a new recliner has replaced the broken one. He insists on returning it, wanting his old one back, only to learn that Bugs has donated it to a thrift store. Daffy claims that his recliner was his sole possession and meant a lot to him because it was the only thing he bought with his own money. He proceeds to tell the story of him saving up to buy it, then he and Bugs leave to retrieve it.
At the thrift store, Bugs and Daffy find out that someone had already purchased Daffy's recliner. While Daffy is grieving his loss, Bugs recommends using the new recliner. Bugs proceeds to back out of the parking space but bumps into Cecil, cracking his shell. After Cecil leaves to have it checked, Daffy takes over the car thinking Bugs already did too much damage, only to drive straight into the building in front of him. At home, Daffy tries to get comfortable in his new chair but complains about how it feels and how it makes noises when he moves. Lola also criticizes it, calling it hideous. Daffy then explains to Lola that Bugs donated his old recliner to a thrift store and purchased a new one. Cecil calls Bugs and says that the crack in his shell was worse than they thought, meaning it will cost $2,000 to see what the problem is. If it is serious enough, it will cost an additional $35,000 to replace it. Lola and Daffy disturb Bugs' call, saying they need his credit card to get Daffy's recliner back. Just as Bugs prepares to go to Cecil's house, Lola says she needs Bugs to help carry the recliner, much to his anger.
At Home Warehouse, Daffy and Lola search for a recliner, but Lola too distracted to focus. Meanwhile, Bugs gives Cecil a check for $2,000 dollars, then apologizes for running into him with his car. Cecil then asks for some groceries, which Bugs has to get because Cecil is too vulnerable without his shell. After Bugs leaves to get the groceries, Cecil gives off an evil laugh, making Bugs suspicious of him. After Bugs returns to Cecil's with the groceries, he overhears Cecil talking on the phone with his shell dealer. A suspicious Bugs demands to speak with him, then ends up fighting with Cecil trying to grab the phone, but he is too late as the shell dealer hung up. As Bugs leaves, Cecil maniacally laughs again, making Bugs even more suspicious.
Back at Home Warehouse, Lola plays around with a bed while Daffy searches for a recliner. Daffy reveals that he went to the bathroom in one of the display toilets, then runs off with Lola, hoping to avoid getting caught. Meanwhile, Bugs searches for more information about Cecil and finds out about a previous lawsuit in which a driver struck Cecil, stating he popped out of nowhere and was awarded a large sum of money. Bugs then finds more similar incidents as Porky runs into Bugs' house and claims he ran into Cecil, who apparently came out of nowhere. Bugs, catching on to Cecil's ruse, suggests they check up on him while Daffy and Lola leave the warehouse store. Daffy faces the fact that he will have to keep using his new recliner while Lola admits she purchased the closet organizer she saw.
Cecil is visited by Bugs and Porky, who have found out about his scheme. Bugs notes that Cecil's shell is intact and discovers his cracked shell, then proceeds to leave with Porky, only to be locked in Cecil's room with Cecil threatening to shoot both of them down if they don't comply with his orders. Bugs then sees Daffy's old recliner, which Cecil picked up at the thrift store. Cecil tells about how he came up with his scheme while sitting on the defective recliner. Bugs asks Cecil to sit back in the recliner, so Cecil complies, only to be sent flying backward into a wall, cracking his shell for real. Back at home, Bugs shows Daffy his old recliner, only for Daffy to be disappointed, for he was getting attached to the newer one much to Bugs' fury after going through all that trouble.
Plot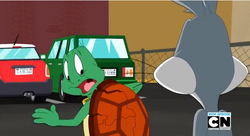 The episode starts with Bugs and Daffy in their house, with Daffy trying to recline in his chair, but having some difficulty. Daffy tries to fix his recliner, but it sends him flying against the wall instead.
Later that night, Bugs sees Daffy moved the T.V. upside down so he could see it in his broken recliner. Daffy doesn't want to get rid of his old recliner, when Bug does. Daffy returns later with Porky from a golf game to find Bugs bought a new recliner for Daffy, although Daffy hates it. Daffy wants his old recliner back, but Bugs sold it to a thrift store. Daffy explains to Bugs that the recliner was the only thing he bought himself. After graduation, he worked at That-A-Burger to get enough money to pay for the recliner. Bugs feels terrible, and decides they're going to get his recliner back.
At the thrift store, they found out someone has already bought Daffy's recliner. As Bugs is backing out of the parking lot, he accidentally runs into Cecil the Turtle. When Bugs goes outside, he finds Cecil's shell is cracked. Bugs promises to pay for the cost when he hears back from his shell guy. Daffy decides to drive home after Bugs accident, and runs into the wall instead.
At their house, Daffy still hates the new recliner. Lola walks in and hates the chair as well, and Daffy decides to go to the store and buy a new, more similar, recliner. Cecil calls Bugs and tells him it will be $2000 for the down payment of the shell.
At Home Warehouse, Daffy and Lola are trying to find the recliners. Along the way, they find many different items for around the house that keep distracting them. Bugs arrives at Cecil's house with the check, and Cecil asks him to buy him some groceries, since he can't leave the house. Bugs starts to get suspicious when he has the list right on him, and starts laughing evilly once Bugs leaves. Bugs arrives later with the groceries, and Cecil is on the phone with his shell guy. He claims that he's going to have buy a whole new shell, but Bugs doesn't believe him anymore. He tries to talk to Cecil's shell guy, but Cecil quickly hangs up.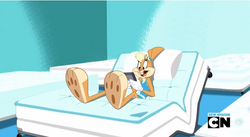 At Home Warehouse, Lola is trying out a bed, before she accidentally gets caught in the bed before Daffy lets her out. While Lola was in the bed, Daffy used a display toilet by mistake. They decide to quickly leave that section. Bugs looks up information on Cecil the Turtle, and finds there have been many cracked shell lawsuits before now. Porky comes in, and tells him he almost ran over Cecil as well. Daffy and Lola get kicked out of the store for using the display toilet.
At Cecil's house, Bugs and Porky catch Cecil unprepared and in his shell. They find a second cracked shell he uses to scam people out of money. When they're about to leave, Cecil pulls a gun on them. With their hands in the air, Bugs notices that Cecil bought Daffy's old recliner. Through subtle hints, he gets Cecil to sit in the recliner and recline, sending him flying into the wall and the gun sliding towards Porky. Cecil's shell gets cracked for good this time.
Back at Bugs' house, Bugs has Daffy's eyes shut, preparing to surprise him with his old recliner. Daffy, however, has finally gotten over his old recliner and doesn't want to see it again, ruining the surprise.
Cast
Trivia
When Cecil does his evil laugh at one point he looks like The Grinch from Dr. Suess How The Grinch Stole Christmas.
Ad blocker interference detected!
Wikia is a free-to-use site that makes money from advertising. We have a modified experience for viewers using ad blockers

Wikia is not accessible if you've made further modifications. Remove the custom ad blocker rule(s) and the page will load as expected.