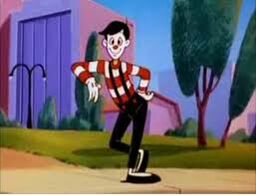 The Mime is a character on Animaniacs.
Description
The Mime is a character in a series of short clips titled "Mime Time", in which he performs a different mimery act in each clip (ex. trapped in an imaginary box, throwing an imaginary football) which is then followed by something happening to the Mime that relates to whatever mimery act he does in each clip (ex. getting crushed by a safe, getting tackled by several football players).
Ad blocker interference detected!
Wikia is a free-to-use site that makes money from advertising. We have a modified experience for viewers using ad blockers

Wikia is not accessible if you've made further modifications. Remove the custom ad blocker rule(s) and the page will load as expected.