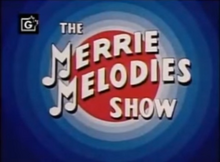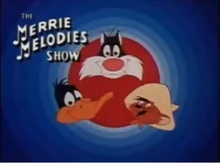 The Merrie Melodies Show is an animated anthology series which compiled theatrical cartoons from the Looney Tunes and Merrie Melodies series, which were produced by Warner Bros. Cartoons between 1948 and 1969. During the early to mid-1970s, this package consisting mostly of cartoon shorts produced after 1960 was distributed to individual television stations.[1]
List of episodes
Video
Title cards
Below are some of the title cards that were made for cartoons on The Merrie Melodies Show with an extended rendition of the music used on Bugs Bunny cartoons on The Bugs Bunny/Road Runner Hour.[1]
References
Ad blocker interference detected!
Wikia is a free-to-use site that makes money from advertising. We have a modified experience for viewers using ad blockers

Wikia is not accessible if you've made further modifications. Remove the custom ad blocker rule(s) and the page will load as expected.