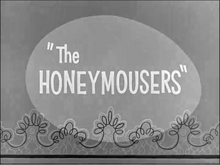 The Honey-Mousers (not to be confused with the 1956 short of the same name) is the 24th episode of season 2 of The Bugs Bunny Show, originally aired on July 24, 1962.
Plot
When Bugs descends by his special, hole-shaped elevator from the stage to his dressing room there beneath, he finds that he has company- the show's viewer. So, Bugs as a dutiful host invites his guest to join him in watching a high-rated television show, a mouse version of The Honeymooners.
Cartoons Featured
Crew
Trivia
Ad blocker interference detected!
Wikia is a free-to-use site that makes money from advertising. We have a modified experience for viewers using ad blockers

Wikia is not accessible if you've made further modifications. Remove the custom ad blocker rule(s) and the page will load as expected.