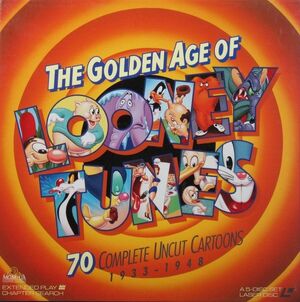 The Golden Age of Looney Tunes
was a collection of laser discs released by MGM in the early 1990s. There were five sets made, featuring a number of discs, and each disc side represented a different theme, being made up of seven cartoons per side. The first collection was also released on home video, with each volume representing one disc side. Like many other Looney Tunes home video releases by MGM, this set uses faded 16mm
a.a.p.
TV prints as MGM/UA and
Turner
had no access to the original negatives, which were being stored at the Warner Bros. Studios.
With the exception of the Censored Eleven and later sets of Bugs Bunny Nips the Nips, every Looney Tunes and Merrie Melodies short in the Turner library was released in this collection either as LaserDisc a.a.p. print or dubbed versions which Volume 5, the majority consists of.
Gallery
VHS
Cover
Title
Shorts

Vol. 1: 1930's Musicals

Vol. 2: Firsts

Note: One featured cartoon, Daffy Duck and Egghead, technically, was the first Daffy Duck cartoon in color, and the first where the character actually has that name. This was used because Turner did not own the rights to Porky's Duck Hunt.

Vol. 3: Tex Avery

Vol. 4: Bob Clampett

Vol. 5: Chuck Jones

Vol. 6: Friz Freleng

Vol. 7: Bugs Bunny By Each Director

Note: This video was recalled due to pressure from a Japanese group because the tape contained "Bugs Bunny Nips the Nips". The 5-tape VHS boxed set was also recalled for the same reason.

Vol. 8: 1940's Zanies

Vol. 9: Hooray for Hollywood

Vol. 10: The Art of Bugs

VHS Boxed Set

Note: This boxed set was recalled.

Vol. 1: 1930s Musicals / Firsts
Vol. 2: Tex Avery / Bob Clampett
Vol. 3: Chuck Jones / Friz Freleng
Vol. 4: Bugs Bunny By Each Director / 1940s Zanies
Vol. 5: Hooray For Hollywood / The Art of Bugs
Laserdisc
Cover
Title
Shorts

Vol. 1

Notes: *Some copies of this set have "Racketeer Rabbit" in place of "Bugs Bunny Nips the Nips". One featured cartoon in Volume 1, Side 2 of the set, Daffy Duck and Egghead, technically, was the first Daffy Duck cartoon in color, and the first where the character actually has that name. This was used because Turner did not own the rights to Porky's Duck Hunt. These cartoons were released before the Golden Collections so none of them used original titles for BR reissues. The BR reissues are seen here as the Internet usually has the restored original titles if present.

Side 1: 1930's Musicals


Side 2: Firsts





Side 3: Tex Avery





Side 4: Bob Clampett





Side 5: Chuck Jones





Side 6: Friz Freleng





Side 7: Bugs Bunny by Each Director





Side 8: 1940's Zanies





Side 9: Hooray for Hollywood





Side 10: The Art of Bugs

Vol. 2

Side 1: Musical Madness





Side 2: Early Wabbits





Side 3: Frank Tashlin





Side 4: Chuck Jones





Side 5: Bob Clampett





Side 6: McKimson & Davis





Side 7: Fables & Fairy Tales





Side 8: The Art of Daffy





Side 9: Best Supporting Players





Side 10: Variations on a Theme

Vol. 3

Side 1: Harman-Ising





Side 2: Bugs Bunny





Side 3: Chuck Jones





Side 4: Friz Freleng





Side 5: Early Avery





Side 6: Tashlin/Clampett





Side 7: Sports





Side 8: The Evolution of Egghead





Side 9: Porky and Daffy





Side 10: Politically Incorrect

Vol. 4

Notes: *The 1940 release version of "A Wild Hare" included on Side 1 of the release had recreated title cards and the original "Carole Lombard" line restored, but had the wrong opening music; uses the 1941-45 opening theme instead of the correct 1939-40 opening theme. The opening from A Gander at Mother Goose was hacked onto the opening title as evident from the WB shield when later restorations in 2008 came out.

Side 1: Bugs Bunny





Side 2: Early Chuck Jones





Side 3: Friz Freleng





Side 4: Cartoon All-Stars





Side 5: Radio Daze





Side 6: Frantic Forties





Side 7: Wacky Blackouts





Side 8: Ben Hardaway & Cal Dalton (and Private Snafu)





Side 9: Sniffles





Side 10: Merrie Melodies

Vol. 5

Notes *Most of the shorts on this volume are dubbed versions. Due to these dubbed version releases, the original ending or BR endings are lost and cannot be found on TV or the internet. However, some have their original ending or BR ending restored to DVD or some have been found in their AAP prints thru CN Latin America. They are Toy Town Hall, I'd Love to Take Orders From You, I Only Have Eyes for You, The Lyin' Mouse, Sweet Sioux, Plenty of Money and You, Little Dutch Plate, Stage Fright, The Mice Will Play and The Sneezing Weasel.

Side 1: Black and White Classics All the cartoons on this side are dubbed, despite most being in PD, although their original prints in fact, do exist, but unlike the 1936-48 cartoons, these cartoons dubbed versions retained their original end cards, only in a smaller screen in the end.





Side 2: Early Avery All of the cartoons on this side are dubbed versions.





Side 3: Freleng Follies All of the cartoons on this side are dubbed versions.





Side 4: Musical Madness





Side 5: Pesky Pets All the cartoons on this side are dubbed versions.





Side 6: Objects D'art All the cartoons on this side are dubbed versions.





Side 7: Animal Antics All the cartoons on this side are dubbed versions.





Side 8: Supplement Material