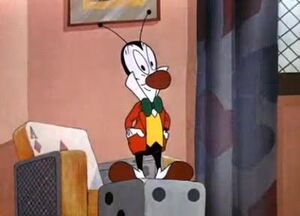 The Gambling Bug is a small character who infects others with the desire to gamble. His first and only cartoon appearance is in Early to Bet (1951). He wears a green bow tie, a red jacket, a brown hat, and a white tuxedo. The Gambling Bug's history is unknown, but he was probably created by Robert McKimson, the director of the short. He was voiced by Mel Blanc.
Other appearances
The Gambling Bug makes a brief cameo at the basketball game in Space Jam.
Ad blocker interference detected!
Wikia is a free-to-use site that makes money from advertising. We have a modified experience for viewers using ad blockers

Wikia is not accessible if you've made further modifications. Remove the custom ad blocker rule(s) and the page will load as expected.