| | |
| --- | --- |
| This article/section is a stub. You can help Looney Tunes Wiki by expanding it. | |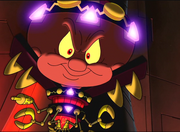 Mother Fudd is an evil alien character seen in two episodes of Duck Dodgers. The character spreads a disease that caused all affected by it to stand around laughing like Elmer (a parody of the Flood in Halo and the Borg in Star Trek).
Ad blocker interference detected!
Wikia is a free-to-use site that makes money from advertising. We have a modified experience for viewers using ad blockers

Wikia is not accessible if you've made further modifications. Remove the custom ad blocker rule(s) and the page will load as expected.