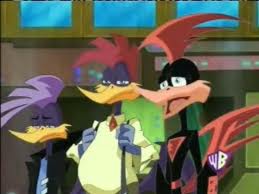 The Family Business is the eighteenth episode of Loonatics Unleashed. It first aired on November 11, 2006.
Plot
While the Loonatics are attempting to stop Toby the Pizza-Boy, possessed by a Bio-Tech Brain Parasite, Rev's family comes for a visit. They want Rev to take over the family business. At the same time Rev's brother Rip finds the hidden Bio-tech Brain parasite, and the Loonatics must stop him.
Ad blocker interference detected!
Wikia is a free-to-use site that makes money from advertising. We have a modified experience for viewers using ad blockers

Wikia is not accessible if you've made further modifications. Remove the custom ad blocker rule(s) and the page will load as expected.