The Duxorcist
is a 1987
Looney Tunes
cartoon made for
Daffy Duck's Quackbusters
starring
Daffy Duck
and
Melissa Duck
. It also appeared as part of the 1992 TV special
Bugs Bunny's Creature Features
.
Plot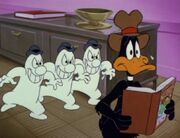 Daffy Duck receives a call from Melissa Duck that her house is being haunted. Daffy quickly rushes over and checks the house. When he opens the oven, it is an arctic wasteland with small people living in an igloo. When he opens the refrigerator, and fire leaps out and burns him. When the cupboard is opened, there is a train heading straight towards him. He quickly slams it and goes to talk to Melissa. He soon finds out that she is possessed, so he gets a book and starts reading corny ghost jokes. The three ghosts that possessed Melissa jump out and the cartoon ends with the ghosts chasing Daffy down the street.
Censorship
When "The Duxorcist" aired as an individual cartoon on ABC's The Bugs Bunny and Tweety Show, Daffy's line after he pushes the possessed female duck (Melissa) off him ("Oh no, not another schizophrenic dame. Hey, Sybil, any more like you in the family? Can you send back that older sister of yours?") was replaced with the scene of Daffy saying, "I don't know my own strength!" (which was cut from the scene of Daffy kissing Melissa and triggering her possession) due to a Standards and Practices rule stating that mental illnesses could not be mocked or even mentioned.
Notes
Ad blocker interference detected!
Wikia is a free-to-use site that makes money from advertising. We have a modified experience for viewers using ad blockers

Wikia is not accessible if you've made further modifications. Remove the custom ad blocker rule(s) and the page will load as expected.