| | |
| --- | --- |
| This page or section is under construction. Please help us work on it. | |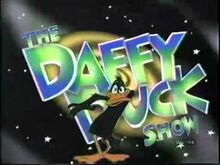 The Daffy Duck Show is a cartoon anthology program on Kids' WB that mostly featured Daffy Duck.
Overview
In late 1996, the WB Network introduced The Daffy Duck Show to replace Freakazoid. This show had the same format as The Bugs n' Daffy Show, except the show had a new opening sequence. The cartoons featured were also slightly different; each show contained two Daffy cartoons with a cartoon featuring another supporting character in between, along with a "Hip Clip". Most notably, The Daffy Duck Show was able to show Warner Bros. cartoons made before 1948 thanks to the merger of Warner Bros. and Turner Entertainment that same year.
Videos
Ad blocker interference detected!
Wikia is a free-to-use site that makes money from advertising. We have a modified experience for viewers using ad blockers

Wikia is not accessible if you've made further modifications. Remove the custom ad blocker rule(s) and the page will load as expected.