The Cat Who Knew Too Much
The Cat Who Knew Too Much is the first episode of The Sylvester & Tweety Mysteries.
Plot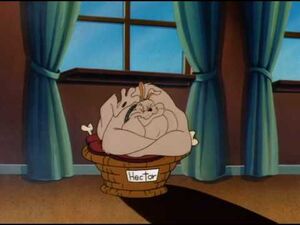 Granny has started a detective agency, with the help of Sylvester and Tweety. The mysteries take them all around the world. Sylvester is still attempting to eat Tweety, but sometimes they are allies.
Trivia
Louie Z. Anna entered Daffy Duck in last year's contest, as seen in the photo Granny finds. In the photo, Daffy is coated entirely in yellow coloring.
Louie Z. Anna's character design closely resembles those of Colonel Shuffle.

Rocky and Mugsy also made an appearance helping the other two bad guys.
References
Ad blocker interference detected!
Wikia is a free-to-use site that makes money from advertising. We have a modified experience for viewers using ad blockers

Wikia is not accessible if you've made further modifications. Remove the custom ad blocker rule(s) and the page will load as expected.