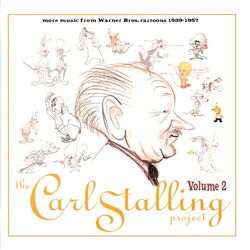 The Carl Stalling Project, Volume 2: More Music From Warner Bros. Cartoons 1939-1957 is a 1995 Warner Bros. Records soundtrack album featuring more of Carl W. Stalling's scores from various Warner Bros. cartoons.
Track listings
Zoom And Bored
Stage Fright
The High And The Flighty
Bad Swiss Band
Marching Pink Elephants
The Slap Hoppy Mouse
Orchestra Gag
Variation On Grandfather's Clock
Variation On Chinatown My Chinatown
Variation On Lucky Day
Wind-Up Doll
Guided Muscle
Fall And Splat-SFX
Ghost Wanted (1940)
The Unexpected Pest
Drunk La Cucaracha
Flea-Ridden Sheep Dog
Golf Cue
Barbary Coast Bunny
Satan's Waitin' (Excerpt)
Rubber Dog
Pappy's Puppy
Variations On La Danza
Variations On Johann Strauss
Kangaroo-SFX
Mouse-taken Identity
Variations On Mexican Hat Dance
Frazzled Coyote
Ad blocker interference detected!
Wikia is a free-to-use site that makes money from advertising. We have a modified experience for viewers using ad blockers

Wikia is not accessible if you've made further modifications. Remove the custom ad blocker rule(s) and the page will load as expected.