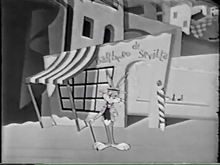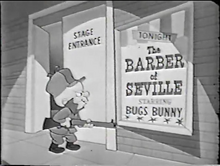 The Bugs Bunny Show Episode 20 is an episode of The Bugs Bunny Show, originally aired on February 21, 1961.
Plot
"Tonight, we thought we would go in for a little fast culture," says Bugs Bunny, standing in front of the set for "The Barber of Seville", which, starring Bugs Bunny, is to be the opera feature for the show. But Elmer Fudd, hunting Bugs with his rifle, sees the attraction poster billing Bugs as the star and enters the studio with the intention of shooting his rifle at Bugs. "This is wabbit season, and I'm gonna get me a wabbit. Opewa or no opewa. Wossini or no Wossini. So, watch out, wabbit!" Additionally, Daffy is an insufficiently convincing protagonist in a swashbuckler story, and Wile E. Coyote on a motorcycle collides with a telephone pole. [1]
Cartoons Featured
Video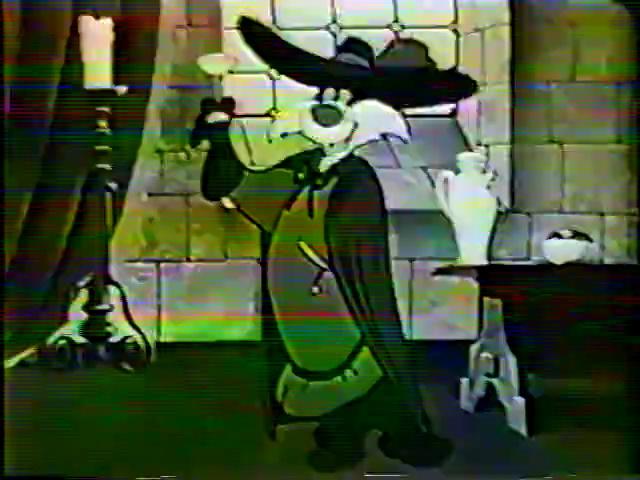 Transcript
Introducing "Rabbit of Seville"
BUGS: "Good evening, ladies and gentlemen. Tonight, we thought we would go in for a little fast culture. (ordinary stage backdrop lifts to reveal a 'Barber of Seville' set) So, without further adieu, it is my great privilege and pleasure to bring you, in its entirety, the great opera, 'The Barber of Seville', by Gio-Gino-Antonio-Dante-Alberto-D'Nunzio-Pasta-Fazool-o-Rossini."
Trivia
References
Ad blocker interference detected!
Wikia is a free-to-use site that makes money from advertising. We have a modified experience for viewers using ad blockers

Wikia is not accessible if you've made further modifications. Remove the custom ad blocker rule(s) and the page will load as expected.