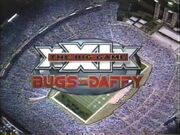 The Big Game XXIX: Bugs Vs. Daffy is the Cartoon Network's Big Game special. This marks the fourth and final Big Game special, marking the third appearance featuring characters from Looney Tunes.
The following cartoons featuring the characters were used for the following quarters.
1st Quarter: Rabbit Fire, Rabbit Seasoning
2nd Quarter: The Iceman Ducketh
3rd Quarter: Duck! Rabbit, Duck!, The Abominable Snow Rabbit
4th Quarter: The Abominable Snow Rabbit, The Million Hare, Rabbit Seasoning (altered without Bugs)
The game ends with Daffy winning 37 to 31.
Trivia
This was the only time where the antagonist won the Big Game.

If one were to look at it, it's also the first time Daffy ever beat Bugs.
Ad blocker interference detected!
Wikia is a free-to-use site that makes money from advertising. We have a modified experience for viewers using ad blockers

Wikia is not accessible if you've made further modifications. Remove the custom ad blocker rule(s) and the page will load as expected.