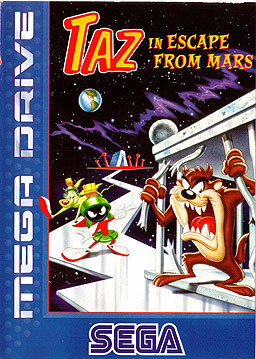 Taz in Escape from Mars is a video game developed by HeadGames and released by Sega in 1994 for the Sega Genesis or Mega Drive, and Sega Game Gear featuring Taz. The Game Gear version was ported by TecToy to the Sega Master System and released in March 1997 only in Brazil.
Plot
Taz must escape from Mars, where he was brought by Marvin the Martian.
Gameplay
The game includes six worlds with two or three levels in each world.
Video
Ad blocker interference detected!
Wikia is a free-to-use site that makes money from advertising. We have a modified experience for viewers using ad blockers

Wikia is not accessible if you've made further modifications. Remove the custom ad blocker rule(s) and the page will load as expected.