Taz-Mania's Funniest Home Videos
Taz-Mania's Funniest Home Videos is an episode of Taz-Mania directed by Lenord Robinson.  It first aired 17 Oct 1992.
Title
The title and episode are a play on the show America's Funniest Home Videos.
Plot
Enticed by the grand prize of a trip to Bill's World "o" Beef, Taz begins making videos of his family to enter in a home video contest. First he films his dad, but he's just polishing the car and watching the wax dry.  Next, he tapes his little brother Jake, but he's only playing with puppets of a garbageman and a milkman.  Then he turns the camera on his mom, and she's happy to show him how she does needlepoint.  Eventually Taz's family finds out about the contest and they perform dangerous stunts for him to film.  They win the grand prize of a trip to Bora Bora, and spend some time lounging on the beach, all of them except Taz in full body casts.
Trivia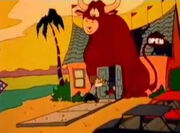 Ad blocker interference detected!
Wikia is a free-to-use site that makes money from advertising. We have a modified experience for viewers using ad blockers

Wikia is not accessible if you've made further modifications. Remove the custom ad blocker rule(s) and the page will load as expected.