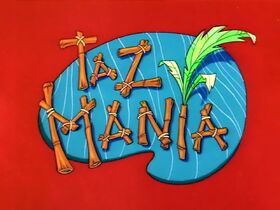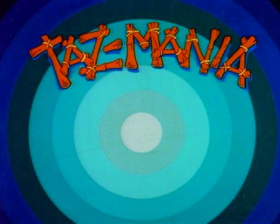 Taz-Mania is an early 1990s cartoon show, produced and directed by Art Vitello. It was broadcast on Fox Kids in the United States. The show however, was not a Spielberg/WB collaboration.
Plot
Taz-Mania follows the adventures of the classic Looney Tunes character Taz the Tasmanian Devil as a teenager living in the fictional land of Tazmania (based on the Australian island and province of Tasmania). Unlike similar cartoons of its time, it frequently broke the fourth wall, and often made jokes involving the fact that Taz could actually speak perfectly normally when he wanted to.
In the show, he is a young slacker who is living with his family, working as a bell-hop at a local hotel, and having adventures with his friends.
Intros
The show had two intros. Because the first had a notable use of strobe effects, a toned-down intro was created later due to concerns over affecting epileptic viewers and those sensitive to strobe-light effects.
Episodes
A total of 65 episodes were produced, most having two separate story segments. See the List of Taz-Mania episodes.
Cast
Trivia
Ad blocker interference detected!
Wikia is a free-to-use site that makes money from advertising. We have a modified experience for viewers using ad blockers

Wikia is not accessible if you've made further modifications. Remove the custom ad blocker rule(s) and the page will load as expected.