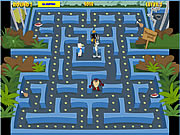 Taz-Man is a Looney Tunes video game on Kids WB.com and is a parody of the arcade game Pac-Man. The game was first called Taz Munch and Crunch.
Gameplay
Taz takes the role of Pac-Man and Bugs Bunny, Daffy Duck and Porky Pig play the ghosts. Drumsticks and steaks act like Power Pellets, except they also increase Taz's speed.
Notes
There are only three enemies in the game while Pac-Man has four ghost-monsters.
The game also includes two mazes from Pac-Man's sequel Ms. Pac-Man.
External links