"Drink Tang, gang. It's Tang-a-riffic!"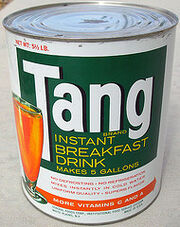 Tang is a fruit-flavored drink. Originally formulated by General Foods Corporation food scientist William A. Mitchell in 1957, it was first marketed in powdered form in 1959. The Tang brand is now owned by Mondelēz International.
When its parent company sponsored The Bugs Bunny Show, commercials were produced that featured Bugs Bunny and other Looney Tunes characters.
Ad blocker interference detected!
Wikia is a free-to-use site that makes money from advertising. We have a modified experience for viewers using ad blockers

Wikia is not accessible if you've made further modifications. Remove the custom ad blocker rule(s) and the page will load as expected.