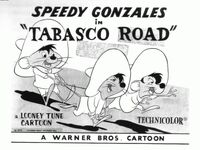 Tabasco Road is a 1957 Speedy Gonzales cartoon, part of the Looney Tunes series.
It was an Academy Award nominee for best short subject but it lost to Birds Anonymous, a Merrie Melodies cartoon starring Tweety Bird and Sylvester, the latter of whom is also often paired with Speedy Gonzales). Both shorts were reissued as Blue Ribbon Merrie Melodies cartoons.
Plot
Speedy Gonzales must save his friends, Pablo and Fernando, from a large (and hungry!) alley cat. The trouble is, they are inebriated, and would much rather pick a fight with the cat (and for that matter, any other cat they can find!). Can Speedy save them?
Trivia
Although it is a Merrie Melodies Cartoon, only the Looney Tunes Intro/Outro Theme was played. It was because the cartoon is an early or mid 60's Blue Ribbon reissue which the original Looney Tunes opening and closing rings were replaced by the Blue Ribbon Merrie Melodies reissue title cards.
External links