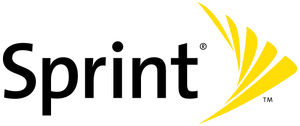 The Sprint Corporation, commonly known as Sprint, is a United States telecommunications holding company that provides wireless services and is also a major global Internet carrier. It's the third largest U.S. wireless network operator as of 2013, and served more than 54 million customers at the end of the third quarter of 2013, in addition to the Sprint brand, the company also offers wireless voice, messaging, and broadband services through its various subsidiaries under the Boost Mobile, Virgin Mobile, and Assurance Wireless brands, as well as wholesale access to its wireless networks to mobile virtual network operators. The company is headquartered in Overland Park, Kansas. In July 2013, a majority of the company was purchased by Japanese telecommunications company SoftBank Corporation, although the remaining shares of the company continue to trade on the New York Stock Exchange.
In 2003, a commercial was made, featuring Bugs Bunny, Foghorn Leghorn (as the director of this commercial), Daffy Duck, and Porky Pig (as The Hollywood Reporter). It is also a promotion for the 2003 movie, Looney Tunes: Back in Action.
Looney Commercial
Ad blocker interference detected!
Wikia is a free-to-use site that makes money from advertising. We have a modified experience for viewers using ad blockers

Wikia is not accessible if you've made further modifications. Remove the custom ad blocker rule(s) and the page will load as expected.