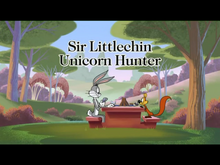 Sir Littlechin: Unicorn Hunter is the first segment of the 40th episode of New Looney Tunes.
Plot
Sir Littlechin appears once again and he is working as a unicorn hunter. Bugs and Squeaks use various wishes to stop him.
Notes
Merlin is mentioned in this episode.
Latin Spanish Title: Sr Quijadita Cazador De Unicornios
Quotes
Bugs: Hey, isn't that Merlin the Magician?
Sir Littlechin: Merlin, you say? Where? That scoundrel made my girlfriend disappear! And he didn't even use magic!
Ad blocker interference detected!
Wikia is a free-to-use site that makes money from advertising. We have a modified experience for viewers using ad blockers

Wikia is not accessible if you've made further modifications. Remove the custom ad blocker rule(s) and the page will load as expected.