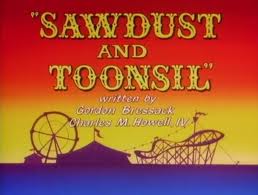 Sawdust and Toonsil is an episode of Tiny Toon Adventures.
Plot
Babs, Buster, and Plucky are having a fun day in wackyland, suddenly a train pulls in advertising a circus. Gogo is frightened, and ends up running off. The gang learns why Gogo ran off, because the circus owner Silias Wonder has an act which features characters that he stole from wackyland. Consisting of a Dragon, a Sphinx, and a Pegasus. Gogo attempts to free his friends, but ends up getting caught. Gogo finds that he is fading away, and becoming weak just like the others. Buster and Babs want to help Gogo, but Plucky decides he wants to get into the circus business. They dress up like a three-headed rabbit duck and gets into a high-diving act, where they are expected to jump right into a bucket of lime jello. After getting through that obstacle, they free Gogo's friends and send them back to Wackyland where they'll eventually get better.
Ad blocker interference detected!
Wikia is a free-to-use site that makes money from advertising. We have a modified experience for viewers using ad blockers

Wikia is not accessible if you've made further modifications. Remove the custom ad blocker rule(s) and the page will load as expected.