Sandcastle Hassle is the fifth webisode of the Toon Marooned series of Webtoons cartoons. It premiered on July 31st, 2001.
Plot
Daffy's alliance with Yosemite Sam is beginning to fall apart while the contestants engage in a sandcastle competition. Tasmanian Devil and Elmer Fudd win the competition while Yosemite Sam is eliminated.
Characters
Contestants
Daffy's Alliance
Voice Cast
Video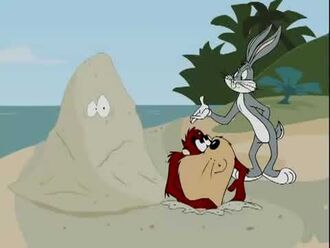 Ad blocker interference detected!
Wikia is a free-to-use site that makes money from advertising. We have a modified experience for viewers using ad blockers

Wikia is not accessible if you've made further modifications. Remove the custom ad blocker rule(s) and the page will load as expected.