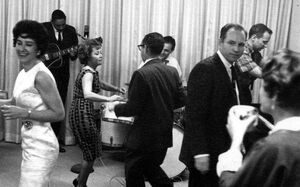 Rudolph "Rudy" Larriva
(February 12, 1916 – February 19, 2010) was an American director and animator.
Born in Texas, Rudy worked at a number of animation studios (i.e. Filmation, Walt Disney Pictures, Format Films, etc.), but is best known for his work at Warner Bros. Animation and The United Productions Of America. 
Some of the cartoons he worked on include the 1960s DFE Looney Tunes and Merrie Melodies, Song Of The South, The Lone Ranger, Gerald McBoing Boing, Fangface, and The Alvin Show.
Rudy died at the age of 94 on February 19th, 2010 in Irvine, California.[1]
References
Ad blocker interference detected!
Wikia is a free-to-use site that makes money from advertising. We have a modified experience for viewers using ad blockers

Wikia is not accessible if you've made further modifications. Remove the custom ad blocker rule(s) and the page will load as expected.