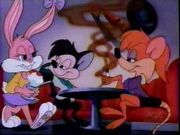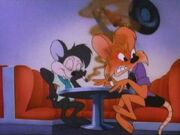 Roderick the Rat (also known as Rod or Roddy) is a character on Tiny Toon Adventures.
Description
Roderick is considered the leader of Perfecto Prep's various activities, and his persona is the opposite of that of Buster Bunny's.
Allies: Rhubella Rat, Danforth Drake, Margot Mallard, Other Perfecto Prep Students
Appearances
In his first appearance, "Butt Out", Babs Bunny tries to make him and Rhubella see the drawbacks of smoking.
In "Bleacher Bummer", he was one of the batters in the baseball game finals, and when Furrball and Dizzy were trying to avoid capture from Arnold, (as a Security Guard.) the twosome (actually Dizzy) landed on Roderick, and Dizzy accidentally broke the bat exposing magnets. As proof of their cheating, Dizzy blew Roderick and the Perfecto Students out of the stadium.
In "Miniature Goof", Roderick and Rhubella had their own golf club but got under the jurisdiction of Buster and Babs.
Gallery
Ad blocker interference detected!
Wikia is a free-to-use site that makes money from advertising. We have a modified experience for viewers using ad blockers

Wikia is not accessible if you've made further modifications. Remove the custom ad blocker rule(s) and the page will load as expected.