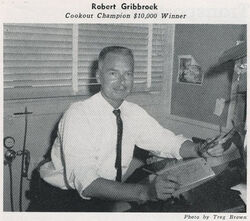 Robert Gribbroek (March 16, 1906 - October 13, 1971) was a layout artist and background painter at the Warner Brothers Cartoon studio from 1945 until 1964. His first animation credit was in 1944's Lost and Foundling, and he worked mostly for Chuck Jones until 1952 when he joined Robert McKimson's unit (Jones, meanwhile, replaced him with Maurice Noble). Although he retired in 1965, Gribbroek would be credited on later Warner compilation specials/features, for his work on the classic Warner cartoons.
Ad blocker interference detected!
Wikia is a free-to-use site that makes money from advertising. We have a modified experience for viewers using ad blockers

Wikia is not accessible if you've made further modifications. Remove the custom ad blocker rule(s) and the page will load as expected.