Road to Tazmania is an episode of Taz-Mania directed by Gary Hartle.  It first aired 14 Dec 1991.
Title
The title is a play on the Road to... movies produced between 1940 and 1962, starring Bing Crosby and Bob Hope.
Plot
Hugh and Uncle Drew decide to take Taz with them on a trip to buy orange juice, but they are diverted to a spy store instead.  They are given a covert package instead of juice and then find themselves being pursued by spies.  On the way home Drew stops at The Coconut Groove to enter a dance contest.  Hugh and Drew perform their routine, oblivious to the numerous attacking spies which Taz repels.
Characters
This episode marks the first appearance of Uncle Drew.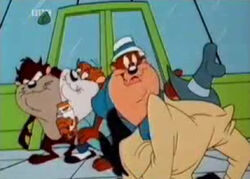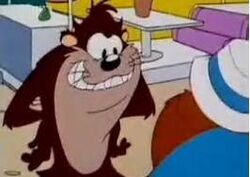 Ad blocker interference detected!
Wikia is a free-to-use site that makes money from advertising. We have a modified experience for viewers using ad blockers

Wikia is not accessible if you've made further modifications. Remove the custom ad blocker rule(s) and the page will load as expected.