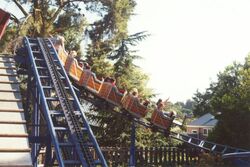 Road Runner Express is a steel roller coaster located at Six Flags Discovery Kingdom in Vallejo, California.
This simple steel coaster is placed in the park's Looney Tunes Seapor] section. The ride is designed to be ridden by children. It has a blue track and blue supports. The ride is themed to the Wile E. Coyote and Road Runner cartoons.
Gallery
Ad blocker interference detected!
Wikia is a free-to-use site that makes money from advertising. We have a modified experience for viewers using ad blockers

Wikia is not accessible if you've made further modifications. Remove the custom ad blocker rule(s) and the page will load as expected.