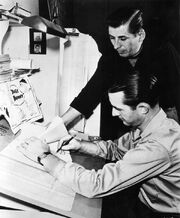 Richard Bickenbach (August 9, 1907 - June 28, 1994) was an American animator and voice actor who did the voices of the Bing Crosby Rooster in Swooner Crooner, various voices in Book Revue, the Bing Crosby Dog in Hollywood Canine Canteen, Daffy Duck's Bing Crosby impression in Hollywood Daffy, Catstello's Bing Crosby impression in The Mouse-Merized Cat, the Bing Crosby parrot in Catch as Cats Can and Bing Crosby in What's Up Doc?.
Looney Works
1939
1940
1941
1942
1943
1944
1945
1946
1947
Ad blocker interference detected!
Wikia is a free-to-use site that makes money from advertising. We have a modified experience for viewers using ad blockers

Wikia is not accessible if you've made further modifications. Remove the custom ad blocker rule(s) and the page will load as expected.