| | |
| --- | --- |
| This page or section is under construction. Please help us work on it. | |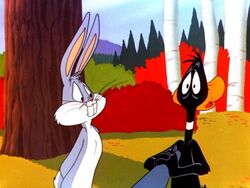 Reverse Psychology is a common antagonistic act seen in Looney Tunes. It often involves "reversed arguments," and occasionally even "pronoun trouble."
Uses
Looney Tunes
Baseball Bugs- Bugs trick the player (dressed as the umpire) into saying "safe" instead of "out".
Tiny Toon Adventures
Plucky: "I'm the green duck with an ego the thize of Cleveland!"
Ad blocker interference detected!
Wikia is a free-to-use site that makes money from advertising. We have a modified experience for viewers using ad blockers

Wikia is not accessible if you've made further modifications. Remove the custom ad blocker rule(s) and the page will load as expected.