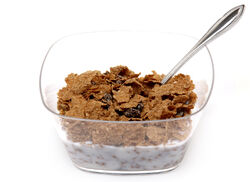 Raisin Bran ('S'ultana Bran in some countries) is a breakfast cereal manufactured by several companies under a variety of brand names, including Kellogg's Raisin Bran, General Mills' Total Raisin Bran and Post Raisin Bran.
In 1956, a commercial for Post Raisin Bran features marionette versions of Looney Tunes characters. This is currently the oldest commercial found that features the Looney Tunes characters.
In 1996, a commercial takes place in Canada featuring Bugs Bunny and Elmer Fudd.
Commercial