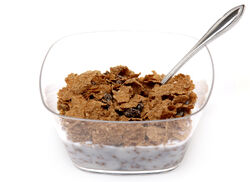 Raisin Bran (Sultana Bran in some countries) is a breakfast cereal manufactured by several companies under a variety of brand names, including Kellogg's Raisin Bran, General Mills' Total Raisin Bran and Post Raisin Bran.
In 1956, a commercial for Post Raisin Bran features marionette versions of Looney Tunes characters. This is currently the oldest commercial found that features the Looney Tunes characters.
Two Canadian commercials for the cereal were released; one in 1994 featuring Road Runner and Wile E. Coyote, and one in 1996 featuring Bugs Bunny and Elmer Fudd.
Videos
Ad blocker interference detected!
Wikia is a free-to-use site that makes money from advertising. We have a modified experience for viewers using ad blockers

Wikia is not accessible if you've made further modifications. Remove the custom ad blocker rule(s) and the page will load as expected.