This article features Looney Tunes media that has yet to be released around the world.
All questionable information in this article must be backed up by a reliable source. Any information that is not backed up by citations may be reverted without notice.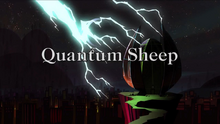 Quantum Sheep is the first segment of the seventeenth Season 2 episode of New Looney Tunes.
Plot
Dr. Clovenhoof creates an age machine that transports himself, Bugs and Squeaks to different stages of their lives.
Videos
Ad blocker interference detected!
Wikia is a free-to-use site that makes money from advertising. We have a modified experience for viewers using ad blockers

Wikia is not accessible if you've made further modifications. Remove the custom ad blocker rule(s) and the page will load as expected.