Punch Trunk is a 1953 Looney Tunes cartoon directed by Chuck Jones.
Title
The title is a play on the phrase "punch drunk" alluding to the elephant's "trunk."
Plot
A tiny elephant emerges from a banana boat and wanders about town, causing an uproar among the populace. Sightings are attributed variously to mass hysteria, insanity and dipsomania.
Notes
Availability
Gallery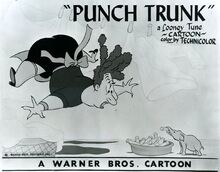 Ad blocker interference detected!
Wikia is a free-to-use site that makes money from advertising. We have a modified experience for viewers using ad blockers

Wikia is not accessible if you've made further modifications. Remove the custom ad blocker rule(s) and the page will load as expected.