Porky's Building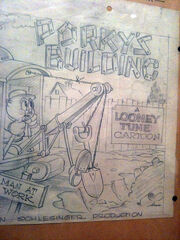 Porky's Building is a 1937 Looney Tunes cartoon directed by Frank Tashlin and starring Porky Pig.
Plot
Porky Pig and Dirty Digg, two building contractors, are in a war for the deal to build the town hall. Both of them offer low fees and the mayor proclaims that they will both get to build their buildings, but whoever finishes first will get the contract.
Availability
Gallery
Ad blocker interference detected!
Wikia is a free-to-use site that makes money from advertising. We have a modified experience for viewers using ad blockers

Wikia is not accessible if you've made further modifications. Remove the custom ad blocker rule(s) and the page will load as expected.