| | |
| --- | --- |
| This page or section is under construction. Please help us work on it. | |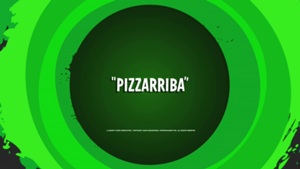 Pizzarriba is a Merrie Melodie for The Looney Tunes Show. It is performed by Speedy Gonzales, his cousin Gustavo, and Porky Pig in some parts, and appears in the episode "Working Duck".
Lyrics
Chorus: Pizzarriba! Pizzarriba!

Speedy: Come to Speedy's pizza place and put both your feet up
bring a hundred friends with you, there's plenty of room
I will bring more pizza than your tummy can eat up
once you taste my pizza your tastebuds'll go boom!
Chorus: Pizzarriba! Pizzarriba!

Speedy: I read all your comment cards and take in your feedback
of all the things you look for in a pizza place
so step into the kitchen where my cousin, Gustavo,
is helping launch my restaurant into cyberspace!
That's right! we have a website, just like you all requested!
Now you can go online and order from your PC
If you can just bear with us,
our connection is buffy.
I swear, it will be worth it to get pizza from me
So please be patient
Chorus: Pizzarriba! Pizzarriba!

Speedy: Wow! Is this thing still loading, Gustavo?
Gustavo: Si, 88%
Speedy: Oh, There it Goes. We're Almost up! Wait, did it freeze again? Gustavo, you've got to be kidding me, man! You said you were good with computers!

Chorus: Pizzarriba!
Gustavo: No, I said I HAVE a computer
Chorus: Pizzarriba!
Gustavo: Oh, here we go! It's up!
Chorus: Pizzarriba!
Gustavo: I told you I could do it!
Chorus: Pizzarriba!
Speedy: You spelled it wrong!
Gustavo: Pibbarriza!
Speedy: What is pibba? It's... Pizzarriba!
Gustavo: Not according to your website.
Speedy: You're running from me? You are running from me?! I'm Speedy Gonzales Speedy's in my name, I'm the fastest, EVER!
Ad blocker interference detected!
Wikia is a free-to-use site that makes money from advertising. We have a modified experience for viewers using ad blockers

Wikia is not accessible if you've made further modifications. Remove the custom ad blocker rule(s) and the page will load as expected.