Piggy Hamhock is a Merrie Melodies character. His first appearance was in "You Don't Know What You're Doin'!" a 1931 short.
History
Piggy's name came from one of two brothers who were childhood classmates of Freleng's, nicknamed "Porky" and "Piggy".[1]
Animator Rudolf Ising introduced Piggy as a second character after Foxy to star in the Merrie Melodies series Ising was directing for film producer Leon Schlesinger. Nonetheless, Ising had only made two Piggy shorts in 1931 before he went on to create Goopy Geer. The animators who took over the Merrie Melodies cartoons dropped the Piggy character (as well as his girlfriend Fluffy) and turned the series into a string of one-shots.
Despite their cliched lead character, Ising's two Piggy shorts are well received by some critics. The first is the 1931 short "You Don't Know What You're Doin'!" Here, Piggy visits a surreal night club where he heckles and plays with the club's jazz band. This was followed by "Hittin' the Trail for Hallelujah Land", also in 1931. Here, Piggy plays a steamboat captain who must rescue a drowning Uncle Tom. Due to its stereotypical portrayal of the Uncle Tom character, the cartoon is included among the so-called "Censored 11", Looney Tunes and Merrie Melodies shorts that are withheld from circulation due to their heavy use of ethnic stereotypes.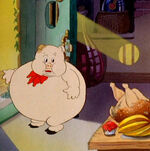 In 1936, animator Friz Freleng redesigned Piggy for colour film. Piggy was given lighter, more Caucasian-like colour with distinguishing birthmarks. The redesigned character appeared as a gluttonous child in a large family of pigs in "At Your Service Madame" (which gives his full name as Piggy Hamhock),[2] where he leads his fellow siblings in foiling a bum's attempt to rob their mother. A year later he starred in "Pigs Is Pigs" in which his gluttony would take center stage.[2] This would be his final appearance. After that he was discarded with his character traits transferred for a time to Porky Pig.
Physical Appearance
He first appeared as a fat, black pig who wears a pair of shorts with buttons on the front. His coloration and dress are identical to those of the Walt Disney character Mickey Mouse before the advent of color film. John Kenworthy argues that, considering the fact that some sketches of mice which Hugh Harman had drawn in 1925 were the inspiration for the creation of Mickey Mouse, Harman and Ising never intended to copy Disney.[3]
In the final two Piggy cartoons by Friz Freleng, Piggy appears as a fat, pink pig who has distinguishing brown-colored birthmarks on both his butt and right ear. Unlike Ising's version of the character, Freleng's Piggy never wore any clothes, save for a red bow tie around his neck.
Appearances
References
↑ Beck, Jerry. Audio commentary for "I Haven't Got a Hat" on the Warner Bros. DVD set Looney Tunes Golden Collection, Volume 3. (2005) citing Freleng's autobiography.
↑ 2.0 2.1 Looney Tunes and Merrie Melodies: A Complete Illustrated Guide to the Warner Bros. Cartoons. Henry Holt and Company. ISBN 0-8050-0894-2
↑ Kenworthy, John The Hand Behind the Mouse, Disney Editions: New York, 2001. p. 54